Three Person Far Infrared Sauna
The Evolve 30 EHS Sun Stream home infrared sauna features our Industry first Complete 360 Degree Infrared Body Coverage.
Innovation is here. The Evolve 30 provides a superior immersion in Infrared radiant heat with two of our large Nano-Carbon heater panels placed directly in front of you on our glass door & glass front panel.
This is a true innovation for Infrared saunas, surrounding you 360 degrees with our Ultra-Low EMF & ELF heaters, projecting more radiant heat on your body for a faster & heavier sweat!
Key Highlights
Free Delivery Nationwide
Lifetime Warranty for Residential use
360 Degree Surround Infrared Heat
Ultra Low EMF & Industry's Lowest ELF
100% Hypoallergenic Basswood/NO Plywood
High Power Chromotherapy
and much more…
Measurements
External Dimensions: 1535 mm (W) x 965 mm (D) x 1880 mm (H)
Internal Dimensions: 1467 mm (W) x 865 mm (D) x 1755 mm (H)
Electrical Specifications
The Evolve 30 EHS requires a dedicated 15 Amp Outlet
2255 Watts, 230 Volt, 15 Amps
Electrically certified to AS/NZS 60335.1:2011 Learn more.
Evolve 30 EHS Far Infrared Sauna Virtual Tour
Take a virtual tour of the beautiful Evolve 30 EHS. Get a feel for the design and the 360 degree targeted radiant heat coverage.
Watch this short video.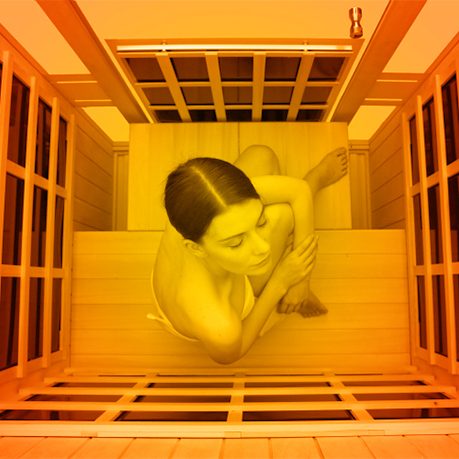 Complete 360 degree Infrared Body Coverage
The Evolve 30 EHS has two large heaters placed directly in front of you on the door and adjacent glass panel, providing true 360 Degrees of Surround Infrared Heat.
Ultra Low EMF (Magnetic Fields) and Industry's Lowest EF/ELF (Electric Fields)
Relax and enjoy your Sun Stream sauna knowing that our all new EHS heater technology reduces EMF & ELF to an all new Industry low. We have average readings on the heater surface of less than 1mG as measured with numerous different styles of meters and near zero Electric Fields. Click here to view testing & learn more.
Smaller Concentrated Heaters = More Infrared Heat on your Body
Our heaters are positioned lower on the walls aiming more radiant heat onto your body verses competitors' larger surface area, cooler carbon panels which produce a less intense radiant heat and wastes infrared heat above your head. Sometimes less is more! Click here to learn more.
No Cloth Covers on the Heaters
Most competing Infrared Sauna brands are adhering synthetic cloth covers to their carbon panel heaters. Our Sun Stream 'Nano-Carbon" heaters do not use cloth covers.
Introduce potentially off-gassing glues and fabrics into the sauna.
Reduce Infrared heat output
Inhibit cleaning sweat off the heater surface (especially problematic for floor heaters)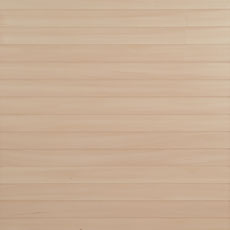 100% Basswood No Plywood
The Evolve 30 EHS is built entirely of premium grade Hardwood Basswood.
Denser
Stronger
Greater Sweat Stain Resistance
Hypo-Allergenic
Beautiful smooth finish with bright clean look
Click here to learn more.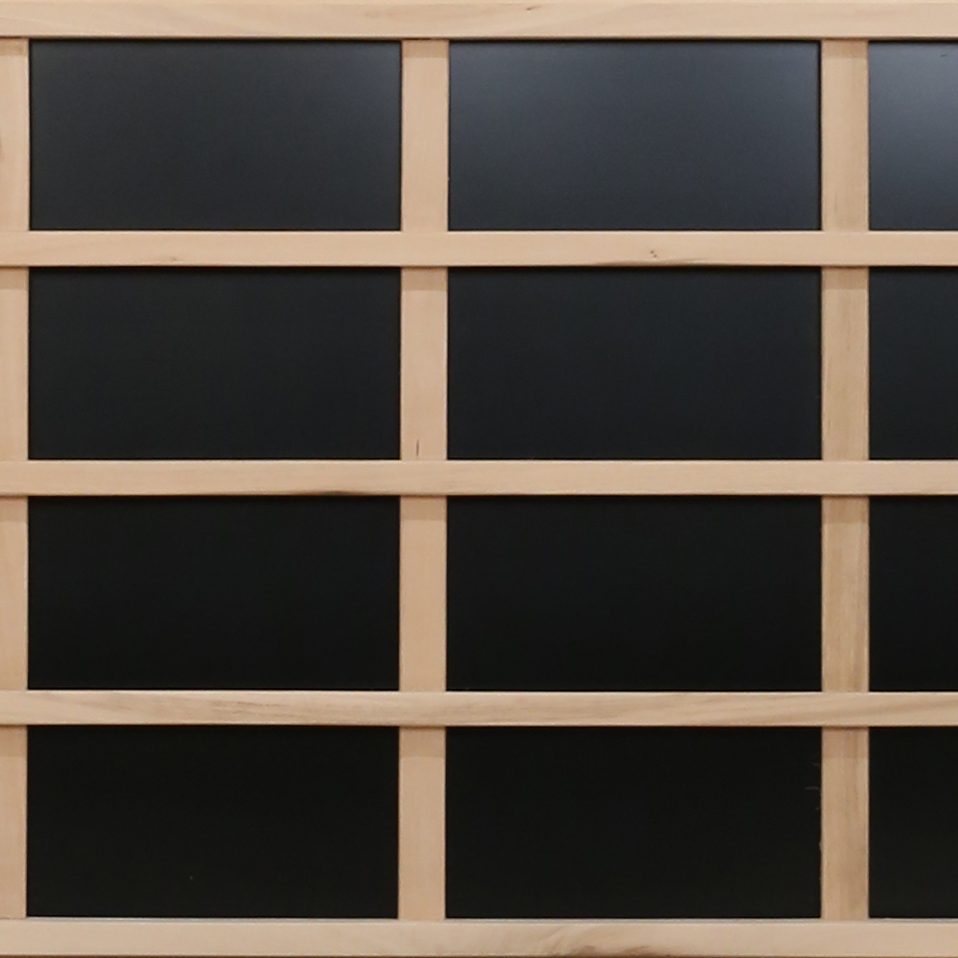 Superior Design Heater Guards
Many sauna brands are installing excessive wooden slats in front of the carbon heater panels. These slats block and reduce the amount of infrared heat projected at your body. Sun Stream's wooden heater guards are constructed with strong, thick wooden slats, widely spaced to maximize the infrared output for your sauna experience.
Water Based Exterior Lacquer
The low sheen healthy water based lacquer protects the exterior wood of your sauna while retaining a beautiful natural appearance.
Titebond Non - Toxic Glue
Constructed with Made in USA 'Titebond' water based glue which is approved for contact with food.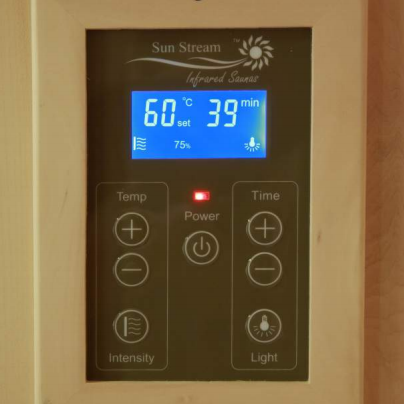 LCD Control Panel
Adjust the settings to your liking from inside the sauna as your session progresses.
Adjustable Infrared Intensity
This unique feature allows the user to adjust the Infrared Heat Intensity for different purposes and personal needs.
100% Full sauna sweating experience
75% Hot yoga, Athletic stretching, Injury treatment
50% Elderly & health challenged individuals
Bluetooth Audio Reciever
Connect your mobile device in an instant to enjoy your favourite music on demand! Concerned about RF radiation? Easily remove the Bluetooth Module from the Audio Circuit board & connect a 3.5mm Audio Cord to the device of your choice to eliminate any possible RF radiation in the sauna.
High Power 45 Watt LED Colour Light Therapy
Operated by remote control, the Sun Stream Evolve 30 sauna, features our significantly more powerful colour light therapy verse our competitors very low wattage alternatives. Experience the difference!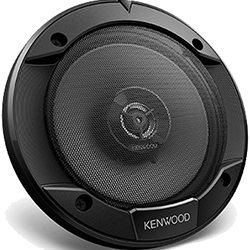 Kenwood Speakers
2 x Premium 2 way Kenwood speakers are installed to truly enhance your sauna experience!
Easy Assembly
With our invisible fastening system, installation is quick, easy and requires no plumbing and no special electrical requirements. All you need is the space and a standard wall socket. Download Installation Manual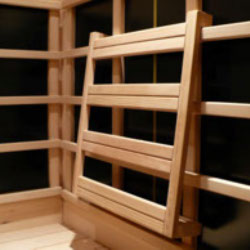 3 x Red Cedar Backrests
Our Sweat Stain resistant backrests will sit solidly in place and enhance your ability to sit back and relax!
L movable Bench x 2
Put your feet up and relax or create a platform to lie down with our unique movable bench system.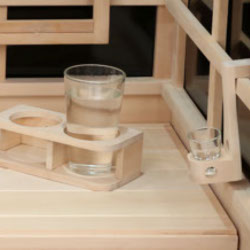 Cup Holder, Aromatherapy Unit
Hint: Place a couple of drops of essential eucalyptus oil into the aromatherapy dish to aid in clearing the head while sweating out a cold or flu.
Removable Floor & Wall Heater Guards
Easy access means you can clean the sweat off our wipeable heaters to maintain hygiene.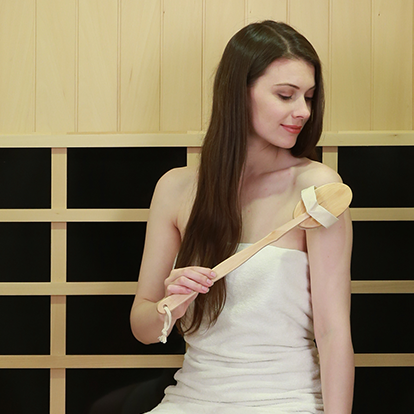 FREE BONUSES
Sun Stream Towel, Dry skin Lymphatic brush & Sauna Hat.
ADD-ON THE FULL SPECTRUM EXPERIENCE
NEAR INFRARED & RED LIGHT THERAPY
Sun Stream Infrared Saunas has partnered with Platinum LED to offer authentic, science based Near Infrared and Red light PhotoBioModulation therapy (PBMT) to compliment our Far Infrared saunas.