From choice of materials to innovative heater technology, every Sun Stream infrared sauna is produced with your health in mind.
The safest and best quality range of infrared saunas on the market
Sun Stream infrared saunas feature industry first 360º body coverage, ultra low Electromagnetic Field (EMF) and Electric Field (ELF) heaters, and hypoallergenic Canadian Hemlock construction.
Four reasons that make Sun Stream the first choice for infrared saunas

Safety
Our innovative heater technology reduces EMF and ELF to industry low levels, making Sun Stream saunas safer than any other brand on the market.

Superior performance
The most complete body coverage of any sauna brand, our heater placement and 360º technology provides greater immersion in radiant heat.

Lifetime warranty
The Sun Stream range comes with a Residential Lifetime Warranty which includes the heaters, electronic control system, cabinet, and even the light bulbs.

Free delivery
We offer free delivery to all cities, towns, and most regional locations. Please contact us if you live in a remote location to find out if our free delivery applies.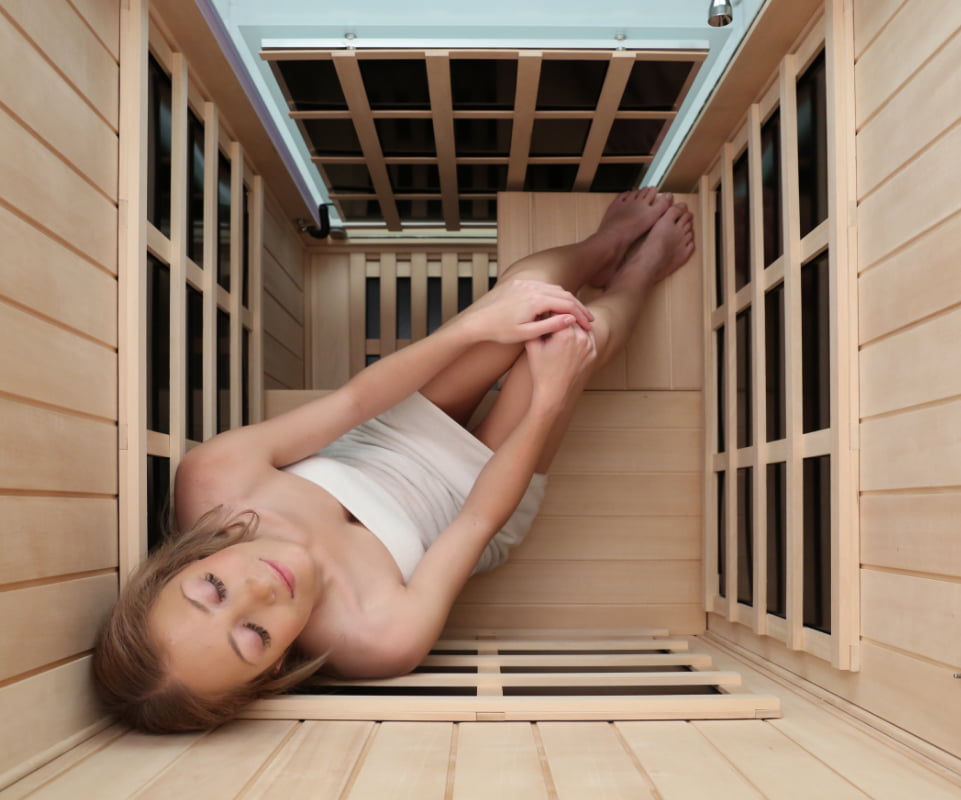 Why choose an infrared sauna?
An infrared sauna emits a band of light we perceive as heat. Infrared is not only safe but also highly beneficial to our bodies on a cellular level. Health professionals have used infrared heat lamps for decades to treat muscle and joint problems. The health benefits can include:
Relief from aches, muscle pain and arthritis

Fever therapy for colds and Flus

Improved immune system

Detoxification

Improved blood circulation and oxidation

Aids weight loss

Skin rejuvenation

Cardiovascular health and improved blood pressure
Not sure which sauna is right for you?
We know choosing a sauna can be a big decision, and something that can take a lot of time to research, that's why we're offering to do all the hard work for you.
Simply let us know which Sun Stream sauna you're interested in and the competitor's product you'd like to compare it against, and we'll do our best to send you an impartial evaluation of the two models.
Compare brands
"*" indicates required fields
Sun Stream Infrared Saunas New Zealand is your pathway to better health
At Sun Stream Infrared Saunas New Zealand we firmly believe that our infrared saunas are the best on the market and for good reason. Featuring industry first 360 degree body coverage, Ultra Low EMF and Near Zero ELF Electric Field heaters, 100% Hypoallergenic Canadian Hemlock and constructed with FDA approved food safe glue, we go the extra mile for your complete safety!
Learn More:
With over 20 years of sauna design experience, Sun Stream Saunas is dedicated to providing you with the most effective, powerful, and the healthiest infrared sauna experience possible.
Sun Stream have given considerable attention to all aspects of the construction of the heater sizing, the heater placement, and sauna room sizing to ensure that the maximum amount of infrared radiant heat is delivered to your body and not wasted.
This means that the sauna's performance and effectiveness will be key to its ability to deliver the best sauna experience possible.
The Sun Stream Evolve 360 Saunas surround you in a complete 360° with our low EMF/ELF nano-carbon panels. This includes exclusive front door mounted heaters delivering more effective infrared heat to your body which gives a true 360° infrared body coverage.
Sun Stream has always been at the forefront of innovations in the Infrared sauna marketplace. In 2010 Sun Stream was one of the first companies to incorporate the EMF magnetic field cancelling carbon panel heaters into their saunas. In 2014 Sun Stream introduced our exclusive front door mounted heaters, greatly enhancing Infrared body coverage, improving heat distribution and the overall effectiveness of the Infrared saunas.
In 2019 Sun Stream delivered another breakthrough development for Infrared saunas with the introduction of our new Evolve EHS heater and electrical system.
After months of development with our engineering team the Evolve EHS heaters brought EF/ELF electric field mitigation to an all new, near zero, industry low.
Sun Stream joins a very small group of Infrared sauna companies to reduce ELF levels and Body Voltage levels in the saunas. Notably the EHS heaters cancel out both the magnetic fields and electric fields at the source of the heater and do not rely upon less effective 'EF blocking or shielding' grills or meshes as used by competing sauna brands.
All Sun Stream Saunas are fully assembled on the factory floor for several days prior to packaging. Each sauna undergoes a rigorous Quality Control inspection. The saunas are run for at least one hour, all electrical specs are checked and proper heating confirmed.
We pride ourselves on taking extra care at every step of the manufacturing and transportation process to ensure that you receive the highest quality Infrared sauna ready to use in your home.