Supreme 4
Infrared Sauna
The Supreme 4 is a truly unique home infrared sauna. It features our exclusive Movable Bench System for the creation of several different configurations providing comfortable room for four people, or spacious room for two.
Key Highlights
Ultra Low EMF & Industry's Lowest ELF
100% Hypoallergenic Canadian Hemlock (FSC Certified

)

Adjustable Infrared Intensity
High Power Chromotherapy
Multiple bench configurations
Lifetime warranty for residential use
24 month interest free finance available
FREE delivery Nationwide*
Ultra Low EMF (Magnetic Fields) and Industry's Lowest EF/ELF (Electric Fields)
Relax and enjoy your Sun Stream sauna knowing that our all new EHS heater technology reduces EMF & ELF to an all new Industry low. Click here to view testing & learn more.
Smaller Concentrated Heaters = More Infrared Heat on your Body
Sometimes less is more! Click here to find out why.
No Cloth Covers on the Heaters
Most competing Infrared Sauna brands are adhering synthetic cloth covers to their carbon panel heaters. Our Sun Stream 'Nano-Carbon" heaters do not use cloth covers. Click here to learn more.
100% Canadian Hemlock / No Plywood
The Supreme 4 is built entirely of premium grade FSC certified Canadian Hemlock. Click here to learn more.
Superior Design Heater Guards
Sun Stream's wooden heater guards are constructed with strong, thick wooden slats, widely spaced to maximize the infrared output for your sauna experience.
Water Based Exterior Lacquer
The low sheen healthy water based lacquer protects the exterior wood of your sauna while retaining a beautiful natural appearance.
Titebond Non Toxic Glue
Constructed with made in USA 'Titebond' water based glue which is approved for contact with food.
LCD Control Panel
Adjust the settings to your liking from inside the sauna as your session progresses.
Adjustable Infrared Intensity
This unique feature allows the user to adjust the Infrared Heat Intensity for different purposes and personal needs.
100% Full sauna sweating experience
75% Hot yoga, Athletic stretching, Injury treatment
50% Elderly & health challenged individuals
Bluetooth Audio Receiver
Connect your mobile device in an instant to enjoy your favourite music on demand! Concerned about RF radiation? Easily remove the Bluetooth Module from the Audio Circuit board & connect a 3.5mm Audio Cord to the device of your choice to reduce any possible RF radiation in the sauna.
High Power 45 Watt LED Colour Light Therapy
Operated by remote control, the Sun Stream Supreme 4 features our significantly more powerful colour light therapy verse our competitors very low wattage alternatives. Experience the difference!
4 x Supportive Backrests
Our Sweat Stain resistant backrests will sit solidly in place and enhance your ability to sit back and relax!
L Movable Bench x 2
Put your feet up and relax with our unique movable bench.
Removable Floor & Wall Heater Guards
Easy access means you can clean the sweat off our wipeable heaters to maintain hygiene.
FREE BONUSES
2 x Sun Stream Towel, Cup Holder, Aromatherapy Unit, 2 x Dry skin Lymphatic brush & 2 x Sauna Hat.
Measurements
External Dimensions: 1547 mm (W) x 1247 mm (D) x 1885 mm (H)
Internal Dimensions: 1481 mm (W) x 1203 mm (D) x 1755 mm (H)

Electrical Specifications
The Supreme 4 plugs into any standard 10A household wall outlet. NB: May need to be dedicated if other heavy appliances are on the same circuit.
2280 Watts, 240 Volt, 9.91 Amps
Electrically certified to AS/NZS 60335.1:2020 Learn more.
Quick and Easy Assembly
With our invisible fastening system, installation is quick and easy. Our detailed assembly manuals with professional photography make for a stress free assembly experience.  Download Installation Manual
* We offer free delivery to all cities, towns and most regional locations. Please contact us if you live in a remote location to find out if our free delivery applies.
Not sure which sauna is right for you?
We know choosing a sauna can be a big decision, and something that can take a lot of time to research, that's why we're offering to do all the hard work for you.
Simply let us know which Sun Stream sauna you're interested in and the competitor's product you'd like to compare it against, and we'll do our best to send you an impartial evaluation of the two models.
Compare brands
"*" indicates required fields
Feel The Love
Discover the difference Sun Stream Saunas has made in the lives of real customers.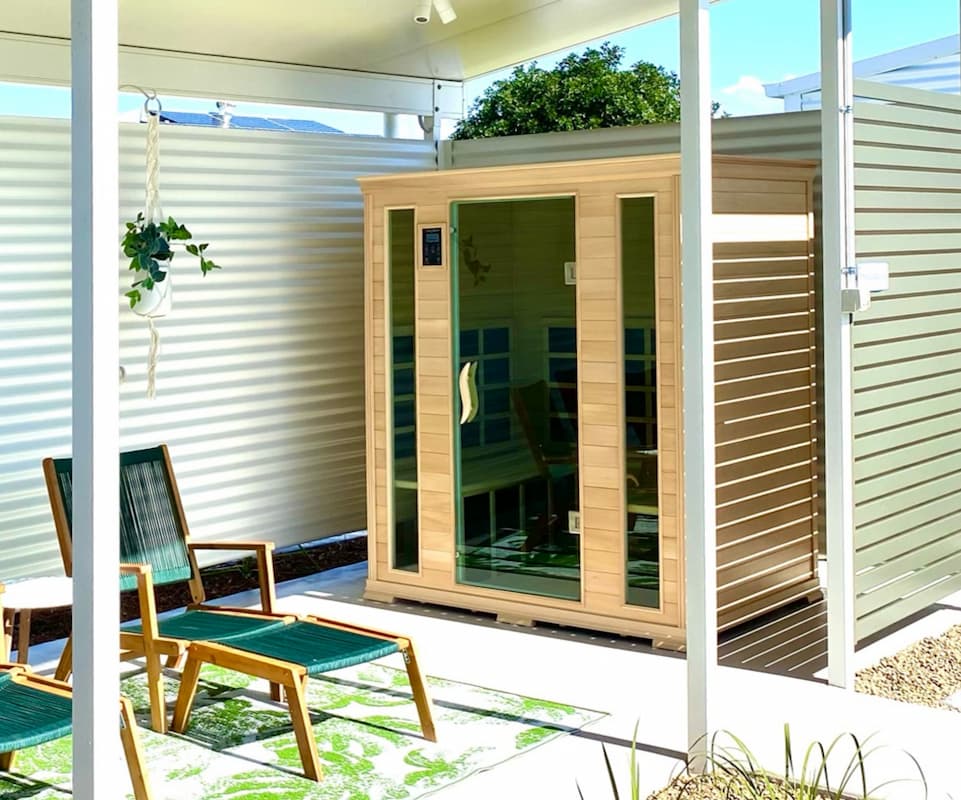 Built to last
Our sauna range comes with a comprehensive Lifetime Warranty.
With any product that has working parts and electrics involved, there is the potential for breakdowns to occur. Therefore, it is extremely important that you have an adequate warranty in place.
The Sun Stream Lifetime Warranty covers heaters, the electronic control system, and the cabinet for major deformations or breakage due to manufacturers defects. Commercial installations are covered by a 5 year warranty (Terms and conditions apply).
Got questions?
We appreciate that purchasing a sauna can be a big decision, and that's why we're happy to answer any questions you might have. Simply fill out the form below and we'll be in touch as soon as possible.
"*" indicates required fields